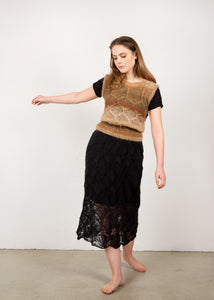 This sweater vest pairs well on its own with nice denim jeans for a casual look. It is hand knitted in the Faroe Islands with a patterned detail and coloured stripes. Designed by Beinta Poulsen.
/ 51% cotton,

 
4% wool, 10% polyamide, 7% linen & 28% mohair.
SIZE GUIDE

Size 1 (XS-S)
Size 2 (M)
Size 3 (L-XL)
SIZE & FIT
Lightweight

Fits true to size

Model is wearing a size 1
SUSTAINABILITY

Made to live a long life and to be donated after ownership.
Hand knitted in the Faroe Islands by *local women
*As each garment is hand knitted by different women, 
this makes them each unique and no two pieces will ever be the same.
Garments of the same size may have small varying factors, but not enough of a difference to make them untrue to their size.
Questions about fit? Contact Us.