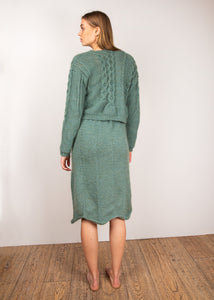 Heiða is a hand knitted skirt with an elastic band opening, giving the added advantage of being adjustable in size and placement on the body. 
Wear the skirt high waisted or low on the hips. Pairs wonderfully with the hand-knitted Erna
, giving the illusion of a one piece.
/ 50% wool, 35% mohair 15% silk. 
Size Guide
Size 1 (XS-S) 
Size 2 (M) 
Size 3 (L-XL)